VisLive Pro V4.0 Full Installer
New Features
1. Support external control panel including general MIDI keyboard, Stream Deck, VisKeyboard APP.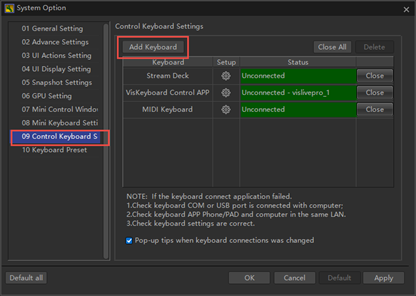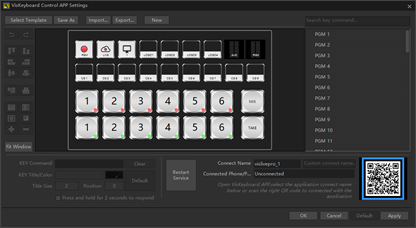 2. Add audio monitor output device option. Audio playback will be automatically switched when the earphone monitor is plugged and unplugged in some cases.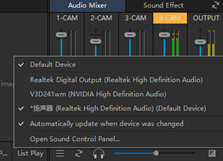 3. Add "Change Project Settings…" menu. You can modify the resolution, frame rate, number of channels of current project, and switch landscape and portrait screen mode.
(Note: In order to ensure that the position of titles can be restored during repeated landscape and portrait mode switching, the rule is applied that titles will be cropped when switching from landscape to portrait mode, and remain unchanged otherwise.)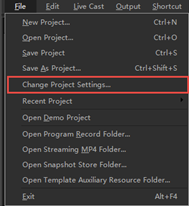 4. Add number to media, music, CG, and sound effect materials to facilitate the control of external keyboard.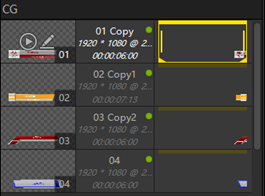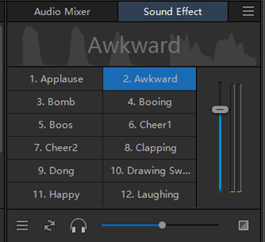 5. Add volume adjusting function by scroll wheel or keyboard. The volume change by each up and down scroll wheel is 0.5db without holding Ctrl key and 0.1db with. Rules of keyboard adjustment are the same.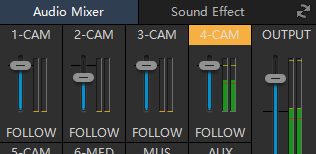 3. Add remaining recordable time reminder (based on the hard disk write rate within 2 minutes). More than 1 hour is displayed in hours, and less than 1 hour is displayed in minutes. Note: There might be error in this reminder. It is only for reference.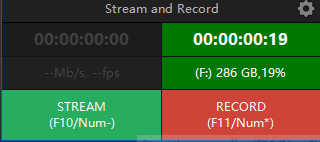 7. Add 12 transition shortcut presets. You can drag and set the transition template to the shortcut button, which is convenient for the control of external keyboard or VisKeyboard APP. The first shortcut transition is set as overlay and cannot be altered.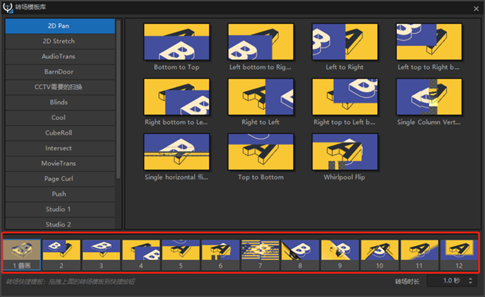 Add transition duration display.

8. Add function items to the shortcut menu to facilitate remote debugging.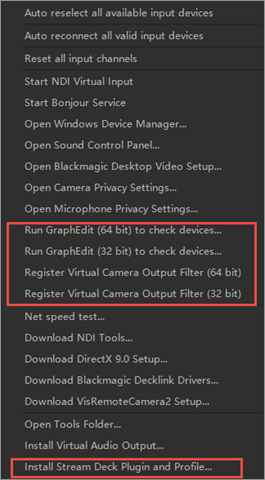 9. The number of channels in project can be set freely within the maximum range of current version of VisLive Pro (only certain numbers can be set in old version).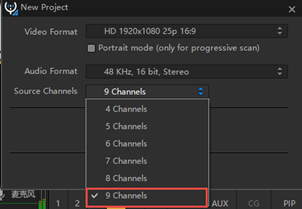 10. Support connection to Z CAM IPMAN S.
Other Features
The whole process of media list playback is GPU optimized (H.264/H.265 encoded files), realizing real-time GPU playback of 4K files of conventional stream (when the computer configuration meets the requirements of GPU 4K decoding), including GPU frame Rate conversion, GPU resolution conversion, etc. It greatly reduces CPU usage and optimizes GPU decoding memory usage at the same time.
V2 virtual camera option and zoom ratio display are added in PGM window. Click to set.

Optimize the adaptive size of the 1-9 channel number buttons in PGM window, keeping the channel switching buttons clickable in extreme cases.

Optimize size adjustment of media, music, and CG window, as well as the control button interface layout at the bottom.
Optimize the startup speed of "New CG" command (initialize the CG module when the software is started).
Fix the problem that the program window may be arranged incorrectly when maximized on screens of different resolutions.
Fix the problem of incorrect prompts of some shortcut keys (prompts for media channel switching shortcut keys in different interface); fix the problem of invalid functions of some menus in PGM menu (channel 6-9 switching menu under channel 9).
Fix the problem that the channel code stream may be displayed incorrectly when only the source channel is displayed on extended screen.
Optimize the playback quality of non-48KHz audio resampling.
Fix the problem that the icon in the lower right corner of Windows may be incorrect after the program is minimized.
Optimize some interface display effects.
When resetting the interface layout, if the channel setting interface is not on the main screen or more than half of it is not on the main screen, it will be positioned to the center of the main screen, and it's the same with CG editing window. This function is convenient to avoid the situation that the interfaces cannot be found in some cases after the computer screen changes.
Add "PVW/PGM Channel Status-Only display one PVW/PGM channel" option to System Option\UI & Actions Setting option to control the red (PGM)/green (PVW) display of current channel status. Check this option, Only 1 PGM and 1 PVW will be displayed. (For example, CAM3 is a custom scene using CAM1 and CAM2 channel as images. When CAM3 is cut as live and Only display one PVW/PGM channel option is checked, only CAM3 will be displayed in red. Otherwise, CAM1, CAM2, and CAM3 will all be red.) This option helps to maintain strict consistency with PGM indicator light of external keyboard.
You need to login to download it.If you do not have a VisTitle user ID, please register now !