Broadcast quality
Video&Audio Switching/Recording System with Multi-input
Based on Windows 64Bit OS, VisStudio is a video & audio switching system of broadcast quality. It features in video & audio switcher, audio mixer, overlay of multiple local or external CG, overlay of logo and corner marker, media recording, streaming, chroma key, virtual studio, etc., making it a perfect live production substitution for various equipments in traditional studio. VisStudio can be widely applied in various shows, sports rebroadcasting, wedding recording, and many other occasions.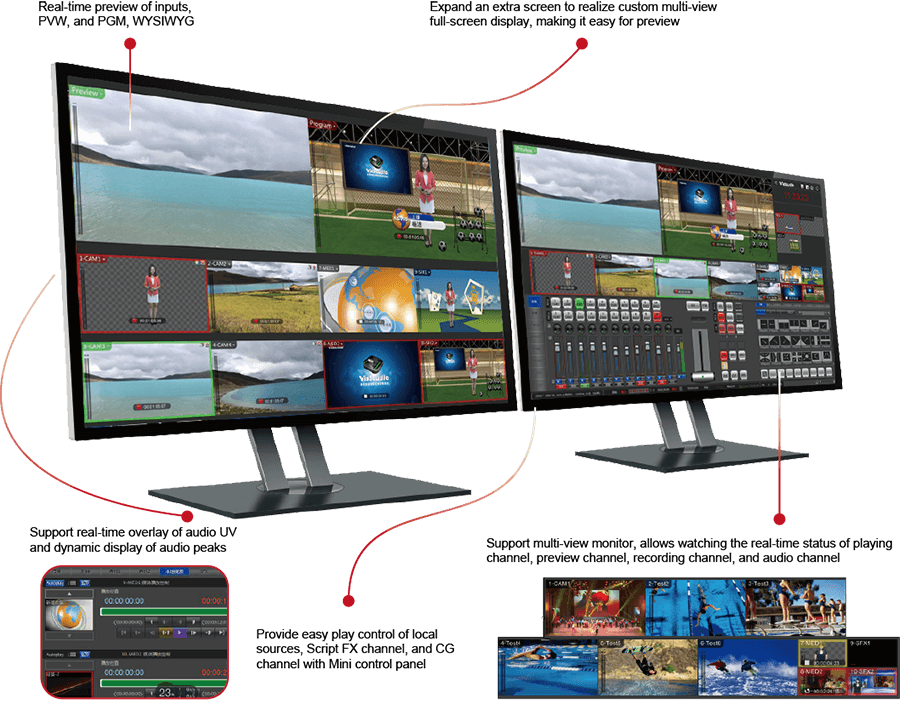 Compatible with a Variety of Inputs
Support multiple* video & audio live inputs (SDI, HDMI, Component, etc.)
Support 2 channels for frame-accurate clip play and playlist of local sources
Support 1 or 2 channel(s) for Script FX composition, create virtual studio and live picture-in-picture effect easily
Support 1 channel for remote VGA signal input#, realize the playout of PPT and remote screen at low cost
Support up to 2 local CG with custom replaceable content, allow fast modification and playout of name title and other titles
Support up to 2 downstream remote CG channels#, realize overlay playout of multiple-title layers by taping
Support 1 clock (quartz clock or digital clock) and 2 LOGO overlay (32bit-movie LOGO or image LOGO), allow changing clock, LOGO, position, and size freely, and with up to 10 preset keys
Multiple Output Options to Meet the Requirements of Programming
1 channel for real-time video & audio program live output* (SDI, HDMI, Component, etc.), 1 channel for real-time video & audio preview output*
Multiple channels for real-time Live video & audio media recording*
1 channel for program media recording, allow recording CG-free video & audio file at the meantime
Support Windows Media streaming broadcasting#
XML output during switching, allow editing by EDIUS during post production&
* Varies by boards or computer configuration user chooses.
# Related software needs to be installed to realize the function. (VisVGA Capture, VisCG Studio, or Windows Media Server)
& Will be supported by later version of VisStudio.
Perfect Transition Effect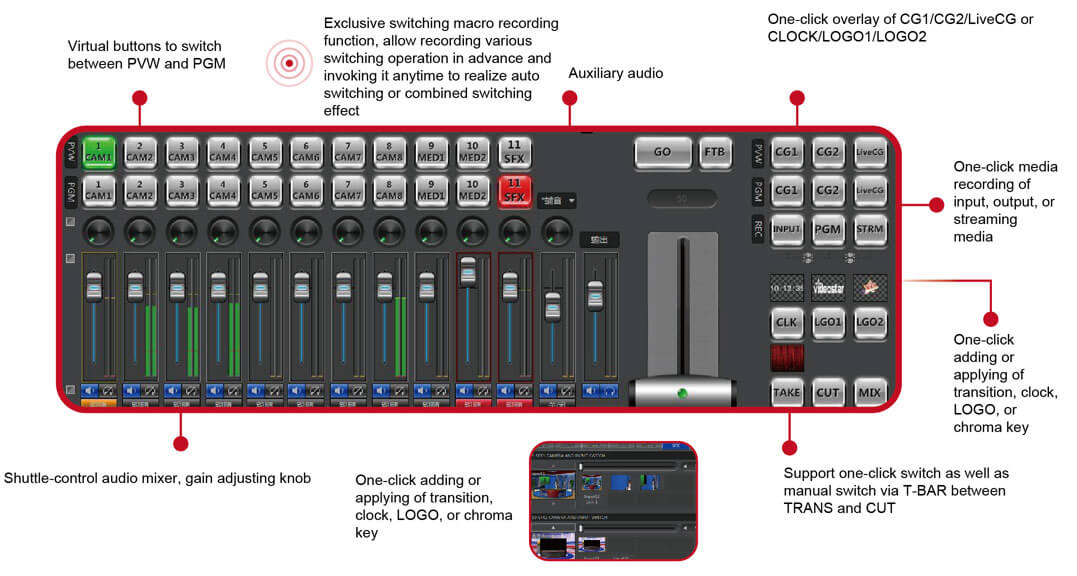 Abundant Video Effects
Support GPU-based chroma key operation with up to 4 channels, allowing regional keying operation
Support up to 2 virtual studio effect, each virtual scenario supports 4 camera modes, which can be easily realized by keyframe transition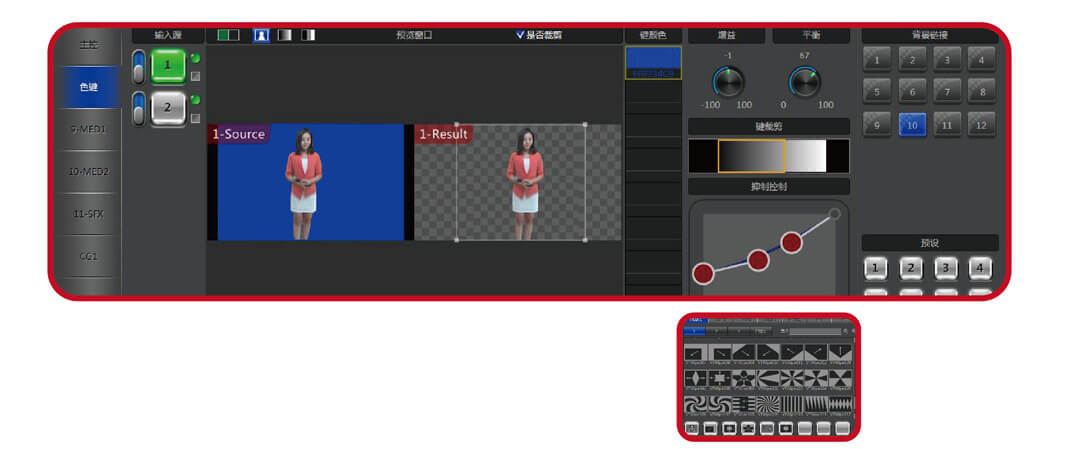 Hundreds of transitions (including standard wipe, 3D scroll, 3D flip, slide, door  opening, blind, etc.)
Custom 32bit full-screen animated transition, extendable transition effect
Custom transition based on Script FX, allowing to design your own transition with/without modification of templates